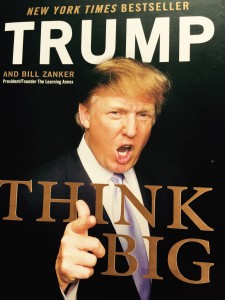 "Le héros se distinguait par ses réalisations; la célébrité par son image ou sa marque commerciale. Le héros se créait lui-même; la célébrité est créée par les médias. Le héros était un grand homme; la célébrité est un grand nom."
("The hero was distinguished by his achievement; the celebrity by his image or trademark. The hero created himself; the celebrity is created by the media. The hero was a big man; the celebrity is a big name".)
Lorsqu'il cite cette phrase d'un livre de 1961 dans un article récent du Wall Street Journal, l'auteur de l'article entend soutenir sa thèse principale:
Trump est une célébrité, pas un héros.
De fait, Trump est le roi des "staged events". Il est une bête de télévision (cf. le reality-TV Show "The Apprentice"). "Je m'adresse aux fantasmes et aux rêves des gens", confirme le candidat à la Maison Blanche dans The Art of the Deal, 1987. Il montre de lui "a character he has chosen to play", insiste l'auteur de l'article du Wall Street.
OK. Mais, à vrai dire, dans cette opposition du héros et de la célébrité, je ne vois pas bien pourquoi les deux versants ne seraient pas cumulables: pourquoi les réalisations n'iraient pas avec l'image des réalisations (les deux aspects, certes, différents, mais nullement opposables en principe).
Du point de vue de la Matrice du Héros, je dirais plutôt que le versant "bête de scène", reality show, jouer un personnage, est intégré dans la dimension de ROL (prise de rôle) du héros moderne. Il est possible alors de reconnaître que Trump force le trait, surjoue le personnage, accentue le rôle (c'est le cas de le dire). Mais, nullement qu'il serait dans une espèce de rupture avec le modèle du héros moderne.
En réserve, pour plus tard:
Le lien avec la réalité est "ambiguë" (le héros moderne ne l'est-il pas aussi?)
Le vocabulaire de l'auto-contradiction: "Yes. There is a team. Well, there is not a team" (Trump)
La notion de "manufactured image"
"I call it truthful hyperbole", Trump, à propos de sa méthode de vente qui consiste à tout grossir (cf. son "Think Big and Kick Ass in business and life").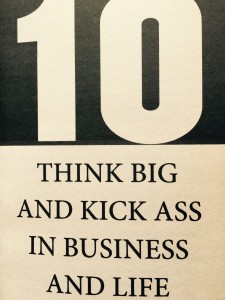 Références:
L'article est de L. Gordon Crovitz, "Donald Trump, Celebrity Politician", Wall Street Journal, 15 Mars 2016.
En tête, la citation est de Daniel Boorstin, The image: A Guide to Pseudo-Events in America, 1961.
Les illustrations sont tirées de D. Trump, Think Big, Make it Happen in Business and Life, 2007, page de couv' et page de titre du chapitre 10.