De nouveau, un footballer affublé du titre de "héros". Déjà, il y a deux semaines, c'était les "héros de l'euro".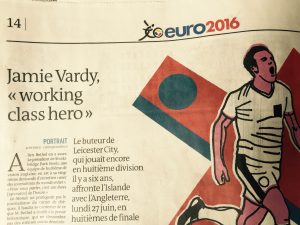 Source: Le Monde, 28/06/16.
En référence, la chanson de John Lennon, "Working Class Hero", 1970, qui se termine par:
"If you want to be a hero well just follow me".
Le discours héroïsé est dans sa fonction, poser un modèle à suivre, inspirant, mais dans un environnement ambigu: "first you must learn how to smile as you kill".